Over the past decade, Science in the City has become a staple on thelocal cultural calendar, so we caught up with DR EDWARD DUCA, the brawn and brains behind the event, to discover what visitors can expect to see at this year's edition!
When Science in the City (SITC) was first held four years ago, not even the organisers could have envisaged just how popular an event it would become. Spanning from the Upper Barrakka Gardens to Strait Street, the science and arts festival was an immediate success with 12,000 visitors flocking to see the exhibits, installations and scientific experiments that were on within Malta's capital city. Four years on, few people would be surprised by that number as more families and tourists make it a point to visit Valletta on that particular night specifically for it.
The Festival has its roots in informal education, however, and has proven itself to be a great way for students and researchers (which, this year, add up to over 300) to engage with each other and with the general public as they volunteer their time and effort to take science out of University and laboratories and onto the streets. In fact, the winning formula has attracted numerous partners for SITC, too, with many educational institutions, government entities, companies, student organisations and NGOS taking part.
"Having so many different partners means we have invested more time in training," says Dr Edward Duca, the founder and project manager of the SITC and the editor of Malta's leading research magazine, THINK. "Nowadays, we train volunteers and interns in public communication skills, basic festival and crowd management skills, and social media training among others, which help to both improve the quality of the festival and their own employability."
Taking place today, Friday 30 September, from 6pm onwards, the Festival this year will be concentrated on Republic Street, extending from City Gate to St George's Square, to be exact. And visitors are in for a number of fascinating and highly-educational displays.
"Our theme this year is the brain, and we'll be covering all aspects of brain research from cognitive science and linguistics, to dementia and epilepsy," Dr Duca continues. "In Pjazza Regina we'll have brain and language games, which should be a lot of fun to try out; while St George's Square will be transformed into our star attraction around the theme."
On top of talks by world-leading scientists, this year's SITC will include an Evolution of Psychiatry exhibition set up by Mount Carmel Hospital, a light
and music installation entitled Brainrave, and even a live-stream from the world's largest experiment CERN, which focuses on smashing particles together to create building blocks of matter and which Malta has an active role in. Furthermore, Parliament will play host to this year's Science in the House exhibition, where local achievements in neuroscience will be showcased and celebrated.
"Moreover, back at the entrance of Valletta, we'll have our science-fair area with racing cars, rowing boats, nervous system sculptures, geology research, a brain research area, exhibits about health and rare diseases, plus loads of sofas in the middle of the street to have a chat with the researchers on," Dr Duca adds.
As anyone who has been to any of the previous editions can testify, this much-loved, annual Festival is an initiative that both dazzles and inspires, and that educates and elucidates; and, as RIDT, we're incredibly proud to be co-organising it.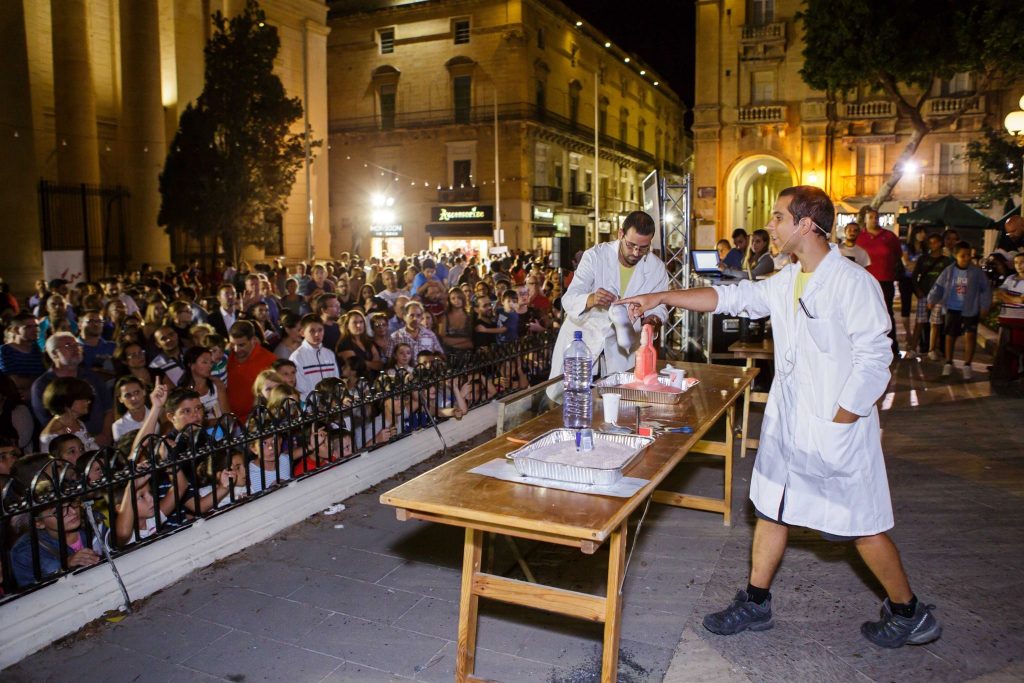 "RIDT also brings some of its key research projects to the festival, in particular the Mobile Dental Unit, which is a star attraction showing how research can really reach communities. The Trust also has a big hand in organising and supporting Science in the House, too; and it has taken care of the offline part of our awareness campaign by helping us build our brand in order to keep the festival and the researchers it supports in Malta's media limelight for the month of September," he concludes.
So, come on! Join us tonight as Science in the City takes over Valletta's main street!
Science in the City takes place tonight, Friday 30 September, from 6pm onwards. For more information please visit: www.scienceinthecity.org.mt, or on FB: www.facebook.com/ScienceInTheCityMalta/events