Over the past year, a small team of engineers at the department of Systems and Control Engineering (SCE) of the University of Malta have been designing and building a ground-breaking prototype for a Smart Wheelchair. Here, the head of department PROF KENNETH CAMILLERI explains how the project could signal a new frontier in independent mobility for the world's physically impaired.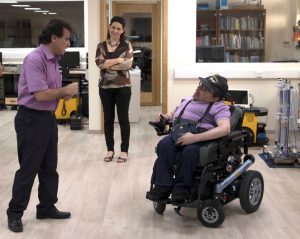 From the first manually-propelled wheelchairs of the 17th century, wheelchair design has reflected changing times. Following the invention of Powered Wheelchairs (PW) in the early 20th century, however – which allow the user to control their motorised wheelchair via a joystick – new commercially-available innovations regarding the wheelchair's functions have been rare.
Today, manual and powered wheelchairs remain the most popular, but the needs of those with conditions that severely hinder their movement or coordination, such as ALS or Cerebral Palsy, have yet to be addressed. Unable to operate a joystick or manual wheelchair, these people often depend on their family or caregiver for navigation and mobility. Beyond the social challenges presented by that, their loss of independence negatively impacts the person's entire lifestyle, from their educational or vocational opportunities to their psychological health and self-esteem.
This is where a small group of robotics experts in the University of Malta's SCE department within the Faculty of Engineering have stepped in, thanks to a chance conversation between head of department Prof Kenneth Camilleri and his friend Ronald Balzan. "Ronald contacted me four years ago to ask for a remote-control facility for his wheelchair," recalls Prof Camilleri. "I was surprised to learn that there was nothing like this already available on the commercial wheelchair market and, together with two of the department's academics experts in robotics, namely Dr Ing Marvin Bugeja and Prof Ing Simon Fabri, we realised that there was potential to use our collective robotics expertise to create an entirely new system for a Smart Wheelchair."
Although the concept of a Smart Wheelchair has grown since the 1980s, global research regarding the many sensors and sophisticated algorithms SWs require is still ongoing. To kickstart a project that would pioneer SW research at the University of Malta, and design and implement a new SW system, Prof Camilleri set about pursuing the necessary funding. "Initially, we looked for funding and to employ someone with the ability to focus on this, but year-after-year, we got nowhere. Then last year, thankfully RIDT secured funding from APS, pledged if we could guarantee that we could get the job done."
The problem of employing someone who could join the SCE department members Prof Camilleri, Dr Ing Marvin Bugeja, Prof Ing Simon Fabri, and Noel Agius on the team, who had the right knowledge and drive and who could work full-time on the project, was solved shortly afterwards. "As luck would have it, engineering student Matthew Aquilina was looking for interesting options for his final year project, required as part of his Bachelor's degree," Prof Camilleri continues. "Matthew was the last piece of the puzzle, so we hoped he was interested enough to do it! We had the money, the expertise and the support, and with Matthew's brains and stamina, we had all the ingredients to make the project a success."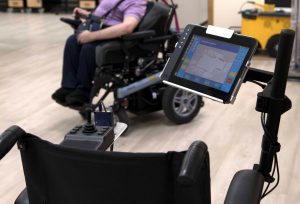 When Matthew started working on his final year project under the supervision of Dr Ing Marvin Bugeja and Prof Ing Simon Fabri in the summer of 2017, the project officially started. The team set about converting a standard motorised wheelchair into a smart wheelchair by equipping it with sensors, computing hardware, and algorithms, all shaped by the team's decades of experience, work, and research in the more general field of mobile robotics.
Developing the concept further, the team's new SW system was installed with multiple modes of operation and capabilities, to be selected bythe user through one of three input methods presented on a touchscreen mounted on the wheelchair. "The semi-autonomous (or assistive) mode relies on both the user's directions, entered via the joystick or remote control, and the SW's sensors which guide the wheelchair through a safe path. For fully-autonomous navigation – which is the next evolution for wheelchairs since they cannot yet self-navigate – the SW takes complete control of its heading, with the user's only interaction being to select their desired destination on a map presented on the wheelchair's touchscreen," explains Prof Camilleri. "Two other manual modes also give full control to the user; one which is fully manual, the other to avoid collisions by preventing movement towards objects within a certain area."
The process of building such an innovative and entirely new SW system and prototype was not without its challenges for the team, however. "We were interfacing components that are not normally connected, and we had to miniaturise many components to get them to fit the power and embedded computer systems mounted on the wheelchair," Dr Ing Marvin Bugeja elaborates. "Of course, to interface new components, you must know what's already there, so Matthew was contacting the motor company for specifications, for example, who would direct him somewhere else… it was a long and difficult process."
Challenging though the process may have been, the team achieved the project's ambitious objectives in under a year. Moving forward, Prof Camilleri believes that this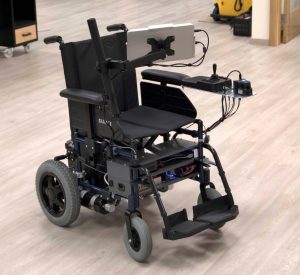 may be just the beginning of a potentially much larger, globally ground-breaking journey for their prototype SW. "Our dilemma now is how to take this forward. There is still plenty of scope to develop this SW prototype even further, such as expanding the sensor suite, improving the algorithms, adding extra input methods or automatic charging, and even launching a mobile app," he highlights. "
Then there is the question of how to eventually introduce this to the commercial market – health, safety and reliability testing, whether we focus on upgrading a specific wheelchair brand, or if our upgrades may affect existing wheelchair warranties. These considerations are challenging for those in the wheelchair industry, let alone for us as an engineering research lab in a university!"
To tackle these exciting possibilities, the team's SW prototype has recently been filmed in action for the television series 'Gadgets', and they are preparing to launch a crowdfunding campaign via local platform Zaar, to set up a company that could take their SW forward. "The funding for these projects is beyond important – it makes them happen. Depending on the funding available in the future, we hope to develop the prototype and make it more sophisticated, and open discussions with interested parties including the Chamber of Commerce. We are still in the testing phase, but this product has amazing potential. The need is real. It could change the lives of so many if it can eventually be commercialised."
Help us fund more projects like this, as well as research in all the faculties, by donating to RIDT. Click here for more information on how to donate.