Through a fund granted by the RIDT, DR WILLIAM ZAMMIT is hunting down historic printed works that have been missing from Maltese libraries for centuries.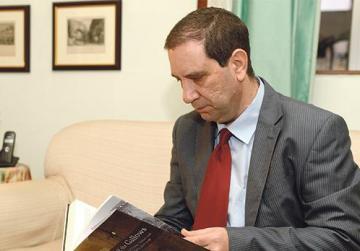 Malta's days of colonisation may be behind her, but the reverberations from those days can still be felt in the present. Indeed, as a non-sovereign nation, Malta rarely had a say on what material – be it books, maps, art or artefacts – remained on the island. Even more crucially, Malta's story of printing began in 1642, almost 200 years after Guttenberg had invented the printing press, and even after that, it has not been a continuous process.
All this has resulted in a number of maps, documents, pamphlets, and other literature related to the island, becoming lost to time; scattered and hidden away in Europe's libraries, where they were often left uncatalogued or undigitised. Yet, while these documents may not be of much use to other countries' histories, they tell vital stories about Malta, the Maltese and their colonisers, which is what makes their retrieval so important.
Author, book historian, and the Head of the Department of Library Information and Archive Sciences within the Faculty of Media and Knowledge Sciences, Dr William Zammit, understands these forgotten documents' importance, and he's at the forefront of making them available to researchers and on the island.
"The work that goes into identifying published historical documents that mention, are related to, or are about Malta, is manifold," he explains. "The first step was to make contacts in relevant institutions and libraries in, among other, the UK and Italy, in order to check whether they have material which is unknown and which has not yet been digitised and that is relevant to our search."
Focusing on material published between AD 1500 and AD 1850, Dr Zammit is looking for documents that cannot be found anywhere but in the library where they are housed: "If they are available on Google Books, or online on the library's website, then there isn't much use to bringing some form of copy to literature here. What we are looking for is printed material that is totally unavailable to us."
The importance of retrieving such document is enormous as, for the first time in centuries, documents and maps that are related to politics, society, occurrences, laws and religion in Malta, and which were previously unknown to us or rarely consulted, will become available to researchers, historians and University students. Moreover, the identification of such documents is already unearthing new information about the Maltese Islands, its people and those who had once colonised it.
"Recently, I came across a four-page pamphlet about the earthquake of 1693, which had hit Catania and Malta," Dr Zammit continues. "This pamphlet was printed in Italy so we had no idea it existed until we came across it. Something like that is very important to complete the story."
Due to the material's rarity and scarcity, all subjects are being considered when compiling and retrieving digital copies of these documents, be it religion, trade or society. And the material identified so far includes pamphlet accounts describing naval battles, like those between the Knights of St John and the Ottomans, and the Maltese corsairs and the Ottomans.
"What many don't realise is that during the time of the Knights of St John, the fighting between the Knights and Ottomans wasn't just restricted to the Great Siege; it was continual. So the Knights, every time they would win a battle, would publish a pamphlet as a sort of PR exercise. Yet many of these pamphletes weren't printed in Malta, so copies of these are almost inexistent in our libraries."
Finding content that is not digitised, and sometimes even uncatalogued, in libraries in the UK and Italy is no easy task, however. Even the search-words used need to be historically accurate and a term as basic as 'Malta' needs to have numerous derivatives to ensure no material is overlooked, including 'Maltha,' 'Melita,' 'Malte,' and 'Melitae.'
"The work is made worthwhile by the benefits that having such material available will bring," Dr Zammit continues. "This material will broaden our knowledge, as well as our understanding, of the era by giving us new insight into the stories and information we know…
"Most of the things we're looking at were intended for the mass market of the time, too, helping us to understand how Malta and those who had colonised it projected their image and were seen… Moreover, the things we're discovering are absolutely fascinating, and include trivialities like adverts by dentists and doctors coming to Malta to conduct their business that shed light on the day-to-day life of our forefathers."
The real extent of the discoveries will only be known once the research is complete but, even then, there may still be more material lurking in boxes or on shelves in other parts of Europe. Nevertheless, it's the fact that we are rediscovering our past that makes this research so important.
You can be part of this fascinating world of research too by helping many other researchers achieve their breakthroughs in all the faculties of the University of Malta. Please click here  for more information on how to donate to research of this kind through the Research Trust (RIDT).