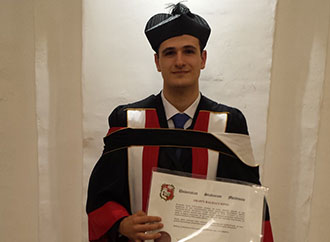 Following a scholarship donated by ALIVE Charity Foundation through Action for Breast Cancer Foundation, Dr Shawn Baldacchino has now been awarded a Ph.D. by the University of Malta. The scholarship was brokered by the University of Malta's Research, Innovation and Development Trust (RIDT) in 2013, and consisted of a donation of €55,000 raised by ALIVE as a result of their first Cycling Challenge.
Shawn Baldacchino conducted his research in breast cancer under the supervision of Prof. Christian Scerri within the department of Physiology and Biochemistry and Prof. Godfrey Grech within the department of Pathology of the Faculty of Medicine and Surgery. A novel molecular classification of breast cancer was developed to predict the activity of a potential therapeutic target, using state of the art technology. This project focused especially on the triple negative breast cancer subtype which as yet lacks effective therapy.
This graduation is of particular importance for the RIDT and for the University of Malta because it is the first of its kind. Two NGOs collaborated to raise funds for the scholarship in cancer research. This opened the way for other NGOs to start donating funds for university research, a factor which was missing in the philanthropic fabric of our country. ALIVE has since raised funds for another two Ph.D. scholarships and further developments are envisaged.
These funds have assisted in the formation of a research team that is actively involved in the elucidation of pathophysiological pathways that can be targets for diagnosis and treatment options as well as the identification of novel biomarkers that can be utilised in screening and characterisation of tumours. Apart from breast cancer, the group has active studies on colon cancer and human papillomavirus that is a main cause for cervical cancer.