29 September @ 18:00 onwards
Valletta 

Science in the House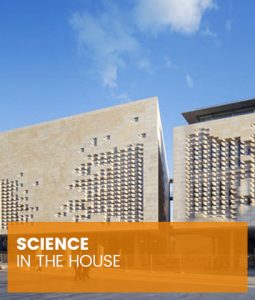 Science in the House
 is an exhibition that includes some of the most recent research carried out at the University of Malta, from all fields and disciplines. The event brings Members of Parliament and researchers together to discuss research on the eve of European Researcher's Night. The exhibition in the foyer of the Parliament Building will then be open to the public during Science in the City (29 September), and in the week leading up to, and including, Notte Bianca (7 October).
As part of the exhibition, there will also be the Young Scientists Area, where the work of nine emerging researchers will be exhibited. Their work ranges from brain-computer interfaces to work for our first space mission to molecular biology to auxetics. This is to encourage and inspire all other researchers working on cutting edge research at the University of Malta, of which these are only a select few.
European Researchers' Night
Science in the City is part of the EU-wide event: 'European Researchers' Night', which takes place in over 30 countries and 300 cities. Every country has a unique approach to European Researchers' Night, including opening research facilities (laboratories, research centres, museum collections), letting the public use the most recent technologies and instruments with the guidance of scientists, participation in experiments, competitions and quizzes, science demonstrations and simulations, engage in debates, and to party with researchers. In Malta, we transform the capital city Valletta to engage with research. For one night, everyone can be a scientist.
For more information on the events please visit scienceinthecity.org.mt/